English-Speaking Union Public Speaking Competition National Finals in Cambridge
English-Speaking Union Public Speaking Competition National Finals in Cambridge
10 May 2022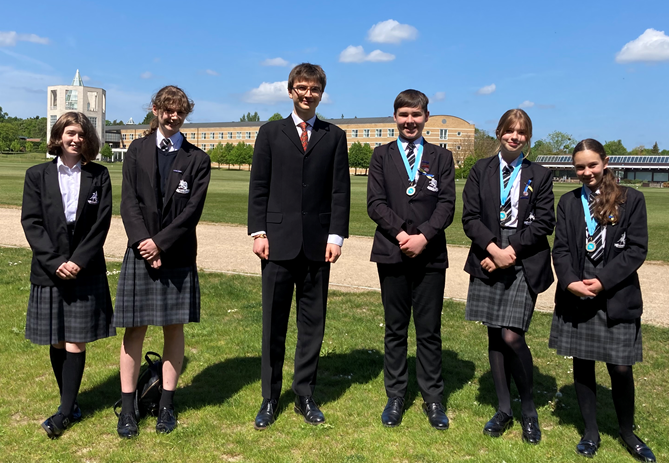 Following on from our success as Regional Champions of the English-Speaking Union Public Speaking Competition, our fabulous team travelled to Cambridge to take part in the National Finals! The team consisted of the following Year 8 students; Isabel P, Millie B, Ewan S, Emilia M, Louise O and they were accompanied by myself and Miss McCutcheon. Our students were the youngest team and the only Year 8 team amongst a range of Year 10 and 11 teams, who were mainly from academies and private schools. Our team performed brilliantly. They were disappointed not to get through to the grand final, but it was a really stiff and very elite competition and the subject the students chose was very tough indeed! International Economic Institutions have simply become the tools of Western Supremacy.
Isabel delivered the speech with incredible passion and aplomb as well as researching this tricky topic and largely writing it all herself. Ewan's role as Chair was thrust upon him as sadly our previous Chair Charlie B was unwell. This meant that Millie had to step up to Ewan's normal role of Questioner, a role she rose to and asked some really insightful questions of their paired school St Catherine's Bramley who spoke about Ethical hacking should not be criminalised, another tough topic which they didn't find out about until the day!
The other members of the team Emilia and Louise provided super support throughout and the behaviour of all our students was impeccable.
The judges didn't realise our students were only Year 8 and said they thought they were Year 10 at least! Their feedback was overwhelmingly positive commenting on Ewan's warmth and how he got the audience to laugh at his jokes in his introduction and how amazing the whole team were and the word we have had all through the competition: "refreshing". They said they were looking forward to seeing us again next year and what an achievement for their age it was to get so far being the youngest team. They are looking forward to seeing the team develop over the coming years.
I cannot express just how proud I am of them - superstars one and all!
Dr Breen
Our students and staff are pictured with Miles Contreras-Brown who was the time keeper and compare on the day. He is a member of the ESU and you can read more about him here and more about the English-Speaking Union on their website here.