Physical Education

Physical Education Staff
For more information about the Subject curriculum, please contact: Mr M Davidson the Curriculum Leader of Physical Education or Mrs D Lupton the Curriculum Leader Girls PE.
Mr M Davidson - Curriculum Leader of Physical Education
Mrs D Lupton - (Head of Clayton House)
Mr A Holland - (Assistant Headteacher: Assessment, Recording & Reporting to Raise Achievement)
Mrs B Jackson
Mr J O'Neill - Sport Technician
Mr S Unsworth
Sports Facilities
We have the following superb facilities at Balshaw's:
Full size floodlit 3G astro-turf all weather pitch
Large fitness suite containing multiple CV machines and weights machines
Large fully equipped dance studio
Gym area
3 x netball courts
3 x tennis courts
Extensive playing fields
Sports News
To view some of our recent Sports news then please select this link.
Year 10/11 PE Revision Materials
30 Day GCSE Physical Education Challenge
Balshaw's PE Journey
You can see the Balshaw's PE Journey below or here.
Intent of our Physical Education Curriculum
Our PE Curriculum aims to provide opportunities for all students to become physically confident in a way which supports their health and fitness. Our main aims are that all students enjoy taking part in physical activity, that they take part in competitive sport and that they develop knowledge, skills and qualities which will benefit them in the world beyond school.
We aim to inspire students of all abilities to strive to achieve their personal best, in a broad range of sporting activities, allowing students to compete and develop in a safe and supporting environment. Students should be able to develop their strengths and be able to identify their weaknesses, not being afraid to fail as they aim to improve.
Our curriculum should allow all students to advance their physical skills but also embed key values such as sportsmanship, fairness and respect. Students should develop their teamwork skills and be able to work with others to achieve a common goal. We aim to provide opportunities for students to grow their leadership skills and build their resilience for a world that is changing at an increasing pace.
We are committed to ensuring that all students leave Balshaw's with the knowledge that being physically active, on a regular basis, is vital for health and well-being and that all students have the confidence to continue to take part in competitive or recreational sport for the rest of their adult lives.
Implementation of our Physical Education Curriculum
Our Physical Education curriculum is branded as MY PE and we hope that each student sees their journey through our curriculum as a personal development experience. Our curriculum is divided into three main areas:- My Performance, My Health and My Life Skills. Each of the areas aim to develop different aspects of each student.
My Performance – Students will experience a wide range of different sporting activities and develop their skills, knowledge of rules, development of tactics and overall performance levels in a supportive environment.
My Health – Students will develop their knowledge and understanding of the importance of health, fitness and well-being. Through lessons in our brilliant school fitness suite or health focused lessons in other areas, each student will develop both practical and theoretical knowledge which will be important throughout their life.
My Life Skills – Students will develop key life skills required in all aspects of life beyond our school. Skills or qualities such as teamwork, leadership, communication and resilience are just some of the life skills which sport and PE can really develop in young people. Students will develop these skills throughout all aspects of our curriculum however we also focus on this through our Teamwork and Leadership units.
Our KS3 PE journey, below, outlines some key things that students in Year 7, 8 and 9 should get involved with.

Our KS3 Programme of Study poster highlights the main activities that students in year 7, 8 and 9 will be involved in through the year.
Throughout all of our activity units our message to students is always to simply try your best! Nothing makes us happier than seeing a student, irrespective of perceived ability, trying their upmost to improve. Everything is about achieving your personal best.
Within PE we still assess our students like all other subjects but we hope that all students can use our assessment as a way of understanding how and what they can improve in a physical context. All of our activities have pupil friendly assessment posters, like the one below, which allow students to identify areas they would like to aim to improve.
Key Stage 4 Physical Education
In Year 10 and 11 all students continue to receive core PE lessons and they continue following our MY PE curriculum model.
In Year 10 students still take part in the same wide range of activities but each unit or sport has a focus on Performance, Health and Life Skills.
In Year 11 we begin to give students more flexibility to choose their own pathway and therefore the activities they want to take part in or enjoy the most. We feel it is very important at this stage for students to be able to choose the pathway they enjoy the most if they are going to then go on to enjoy being physically active into adulthood.

Key Stage 4 Physical Education Option Qualifications
Students can opt to study one of the two courses that we offer within PE. These are GCSE PE or Cambridge National in Sports Science. All students in Year 9 are given the opportunity to participate in 4 weeks of mock GCSE PE/ Sports Science lessons before making their option choices so that they gain a full understanding of the content and commitment needed when studying our qualifications. Those student who opt to study one of our qualifications will receive five extra lessons on top of their core PE timetable allocation.
GCSE Physical Education (OCR)
Content overview
Component 01: Physical factors affecting performance
Students explore how parts of the human body function during physical activity and the physiological adaptations that can occur due to diet and training. They also develop skills in data analysis, and an understanding of the principles of training, why we train in different ways and how training plans can be made to optimise results.
There are two topics:
Applied anatomy and physiology
Physical training
Component 02: Socio-cultural issues and sports psychology
Students develop their knowledge of the social-cultural and psychological influences on levels of participation in sport, and also how sport impacts on society more broadly. This includes the individual benefits to health, fitness and well-being of participating in physical activity, as well as the influences of commercialisation, sponsorship and the media.
There are three topics:
Socio-cultural influences
Sports psychology
Health,fitness and well-being
Component 03: Performance in physical education
Students are assessed in performing three practical activities and one performance analysis task. In the practical performance, they demonstrate effective performance, the use of tactics or techniques and the ability to observe the rules and conventions under applied conditions. They are also required to demonstrate their ability to analyse and evaluate their own performance to produce an action plan for improvement.
For further information about the OCR GCSE PE course please to go https://www.ocr.org.uk/qualifications/gcse/physical-education-j587-from-2016/
OCR Cambridge National in Sports Science
Content overview
Mandatory
For both the Award and the Certificate there are two mandatory units:
R041: Reducing the risk of sports injuries
Students learn how to prepare participants to take part in physical activity so that they minimise the risk of injuries. They also learn how to respond to common sporting injuries and how to recognise the symptoms of some common medical conditions.
R042: Applying principles of training
Students develop knowledge and understanding of the principles of training and how to keep performers in peak physical condition. They apply practical skills in fitness testing and in designing bespoke training programmes to suit individual requirements.
Optional
For the Certificate there are a further four optional units. Students select two from the following:
R043: The body's response to physical activity
Students explore how the body changes and responds to physical activity. They develop knowledge and understanding of the musculoskeletal and cardio-respiratory systems and some of the changes that occur in response to physical activity, both short term and long term.
R044: Sport psychology
Students look at some of the key elements of sport psychology and the strategies and techniques used to help sports performers maintain an effective balance between being relaxed and focused when performing under pressure.
R045: Sports nutrition
Students explore the role that diet plays in different sports and activities and the importance of a healthy, balanced diet that includes essential nutrients in the correct quantities. They use the knowledge they gain to produce an appropriate, effective diet plan for a performer.
R046: Technology in sport
Students consider how various technologies are used in sport to enhance performance and the experience of sport both for performers and for spectators, as well as the career opportunities that the use of technology presents. They also explore arguments both for and against the increasing use of technology in sport.
For further information about the Cambridge National in Sports Science course please go to https://www.ocr.org.uk/qualifications/cambridge-nationals/sport-science-level-1-2-j802-j812/
gallery:Sport at Balshaws}
Related News
28 March 2023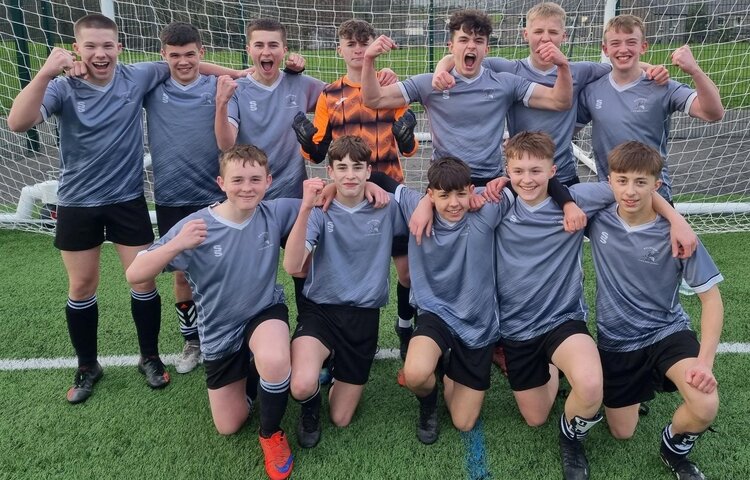 Our Year 10 boys team have reached the final four in Lancashire after another nail biting extra time game.
28 March 2023
Our Year 11 football team were in Lancashire Cup Quarter-Final action on Monday 27th March VS Baines School.