Margaret Pickersgill (née) Hutchings Tribute
Margaret Pickersgill (née) Hutchings Tribute
8 February 2021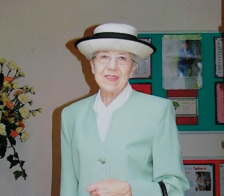 Margaret Pickersgill (née) Hutchings Passed away on Monday February 1st 2021 aged 93.
Margaret Pickersgill was born on February 12th 1927. She was educated at Balshaw's Grammar School during the years of the Second World War and at a London P.E. college. Margaret started her teaching career in East Lancashire but very soon returned to Balshaw's, in the late 1940's, where she remained until her retirement in 1987.
Joyce Penswick, another Balshavian, informs me that Margaret had an aunt, a tailoress, who made all her clothes. Margaret was the envy of all her friends because her box pleats (three at the front and three at the back) were fuller and deeper than anyone else's. No 'utility' school garments for Margaret! When Joyce returned to Balshaw's to teach P.E. with Margaret, they regularly umpired hockey matches on Saturday mornings. Joyce would spend ages cleaning her boots after games, but Margaret never seemed to have that problem. 'The dirt wouldn't have dared to stick to Margaret's boots!'
Rev. Jeff Fearnley, yet another Balshavian who returned to teach at the school, has reminded me that tennis was another of Margaret's favourite sports. She loved to attend Wimbledon with her beloved husband, John, who sadly died in 1999.
Margaret was promoted to the position of Senior Mistress but continued to teach girls P.E. until retirement. (She last performed a cartwheel aged 60!) I first met her in 1981 when I was appointed Head of Physics. I was always in awe of this senior teacher who coached the girl's hockey teams on the pitch next to my laboratory.
Dave Ellacott (Head of English 1974-2002) has commented that Margaret was always smartly attired, even on the days when she was teaching P.E. interspersed with History. One of her duties involved the organisation of cover for absent colleagues. The hand-written substitution list was always, like her appearance, immaculately presented.
Margaret has continued to worship at St Ambrose Church in Leyland, and I have always considered it a privilege to keep her informed of events and successes of her former school. She will be sadly missed in Leyland by ex-colleagues, former pupils and friends.
Keith Woodcock (Chair of Governors)
Reflections from colleagues:
When I came to Balshaw's as Deputy in 1974, Margaret was already Senior Mistress and as such was a valuable member of The Senior Management Team. Unfailingly fair and firm, expecting high standards- she always wanted the best for 'her girls' of whom she seemed to have an encyclopaedic knowledge! Meticulous in everything she did, she was a great support to me and became a very good friend of ours. A true lady. Graham and Veronica Gambling.
I remember Margaret as a true professional with an engaging smile and a gleam in her eye. She set herself the highest standards in appearance and commitment and expected nothing less from all of her students. She seemed to me indestructible because of her boundless energy. This frequently enthused the girls to whom she taught PE and intimidated others who could not match her energy and expectations! God Bless, Margaret. A lovely lady. Jim Saunders