Remembering Paul Ingram
15 October 2020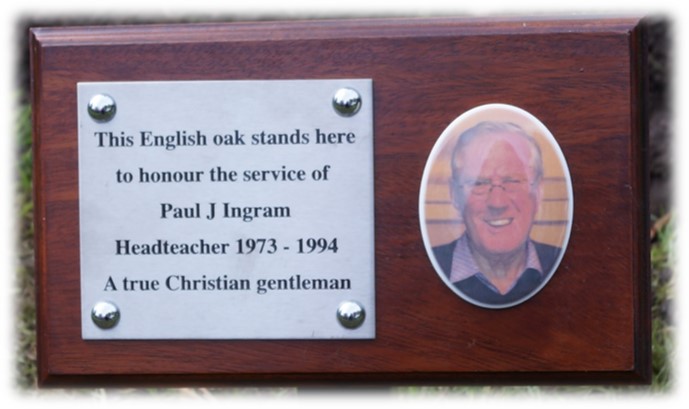 On Tuesday 13th October, a small memorial service was held for our former Headteacher, Paul Ingram, who sadly passed away last year.
A young oak tree has been planted in the school grounds and plaque was unveiled during the service. Bob Hardwick, who served as Deputy Head at Balshaw's, before later becoming a Headteacher advisor, said Paul was the embodiment of our school motto 'Non Sibi Sed Aliis' (not for ourselves but others) and how Paul had supported him during his time at Balshaw's. David Ward, the Rector from Brindle St.James' Church, dedicated both the tree and plaque. Along with Bob and David, the service was attended by Paul's late wife Joan, former Balshaw's RE teacher Margaret Hardwick, Steven Haycocks, our current Headteacher and former Headteacher Jo Venn, our current Chair of Governors, Keith Woodcock and former Chair of Governors Tim Callaghan.
Paul was Headteacher at Balshaw's from 1973 to 1994 and led Balshaw's through its transition from being a grammar school with a sixth form to its new role as an 11 - 16 comprehensive high school. Paul never left touch with the school that he worked so hard for. He always supported events and continued to come in to visit both Jo Venn who succeeded him and Steven Haycocks, our current Headteacher, always taking an interest in the students and the life of the school.
Paul Ingram Service