Christmas Cracker of a Concert!
Christmas Cracker of a Concert!
20 December 2019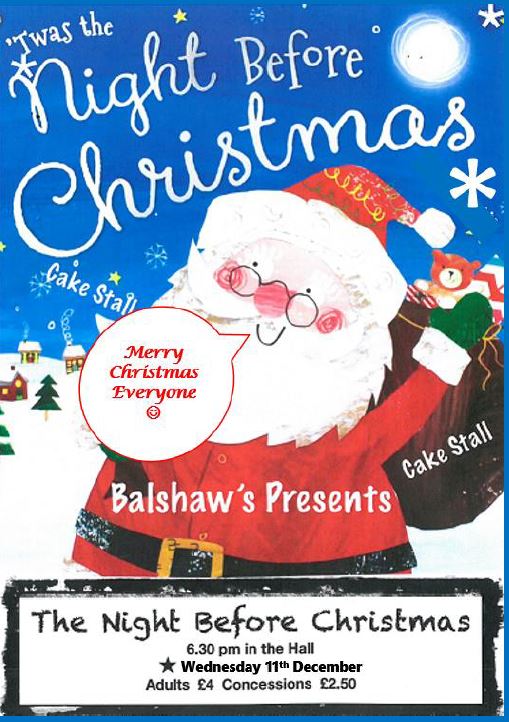 Our fabulous Christmas concert took place on Wednesday 11th December and a large audience gathered in the 'Christmassy' Hall for an evening a festive fun.
Mr Haycocks welcomed everyone to the concert and then the festive entertainment began with Balshaw's Brass band and 'Rudolph's Christmas Fanfare' and this was followed by a lovely solo performance of 'Last Christmas' by Ruby Drake. The staff choir were next to perform and sang a beautiful version of 'Silver Bells' and they were followed by delightful duet from Rachel Prater and Matilda Stansfield of 'The Snow Begins to Fall'. Another performance from Balshaw's Brass band followed with the lovely carol 'Away in a Manger' after that they were joined on stage by Niamh Capaldi who did a fabulous solo horn performance of another Christmas classic 'White Christmas'. This was followed by a marvellous version of 'Walking in the Air' from 'The Snowman', with a solo by Andrew Dawson and backed by the Chamber Choir. The Balshaw's Brass band graced the stage for the final time in the first half with the lovely carol 'Once in Royal David's City' and Max Gorrell did a solo performance at the beginning which was amazing.
DJ Luke Ashcroft entertained the audience with his DJ skills and tune 'mash-ups'.
During the interval there was a delicious cakes on sale along with the final flurry of raffle ticket sales.
The raffle was drawn and then the second half was underway! The drama club were on superb from and really entertained the audience with 'Twas the Night Before Christmas' and there was even a guest appearance from Father Christmas himself! A blast of rock music was next from Rock School – Exposure Alliance and they performed 'Christmas Time' with great gusto! The audience were then treated to a euphonium solo by special guest John Powell. John even got the audience up on their feet taking part in the fun! More tunes from Balshaw's Brass band followed with 'O Little Town of Bethlehem'. More beautiful singing was next from Ruby Hunter and Matilda Stansfield with 'When Christmas Comes to Town'. The penultimate performance from Balshaw's Brass was with the upbeat 'Angels from the Realms of Glory'. Isobel Davies sang 'Have Yourself a Merry Little Christmas' absolutely beautifully and Isobel was followed by the final fantastic performance from Balshaw's Band with 'O Come All Ye Faithfull'. The amazing Chamber Choir were the final act to perform and with two hymns – first was 'Away in a Manager' and Rachel Prater sang solo for the first verse and finally 'O Holy Night'.
We would like to thank everyone who performed and supported the evening in any way. You are all amazing and we couldn't do it without you.
Thank you also to everyone who came along to the event, we do hope that you had a wonderful time.
You can see photographs from the evening below and a programme from the concert here.
Christmas Concert 2019