DigiGirlz Trip to Microsoft UK
DigiGirlz Trip to Microsoft UK
23 May 2019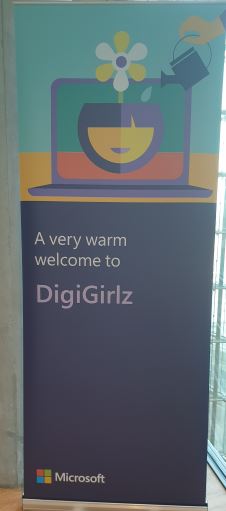 On Monday 20th May, Mr Mort and Miss Lockhart took the train to London to visit Microsoft's Paddington offices with eight Year 8 girls for an event called DigiGirlz. The event is aimed at girls to inspire them to pursue their dream with STEM.
At the start of the day, the CEO of Microsoft UK, Cindy Rose OBE, gave an engaging and inspirational talk about how the industrial revolutions of the past have shaped the way we work and live our lives today. This was followed by another talk from a Microsoft employee, Eva D'onofrio, who talked about how she became interested in technology and began her career with Microsoft.
Later in the morning each group of students split into teams of four and undertook a task for the 'Maker Challenge'. Each group had to create an item which would improve the lives of people who had a disability or impairment.
After lunch, students pitched their responses the Maker Challenge to a panel of judges. There were a lot of different ideas which were both positive and creative. After the pitches were completed, student then went to see how teams who work within Microsoft on various projects. These included Paint 3D, where students had to draw a 3-dimensional pizza slice and then use augmented reality to see how their designs mixed with the real world. Next students found out about SwiftKey, a project which uses Artificial Intelligence (AI) to predict what you might type next on a computer keyboard. Finally students then went to look at the HoloLens project where a mixed reality headset is worn that can project computer generated holograms into the real world.
At the end of the day the winners of the Maker Challenge were announced. Sadly, Balshaw's teams didn't win any of the awards, but were highly commended for their thought processes involved with their wearable tech designs. A fantastic day out was had by both staff and students before heading back home on the train.
Tags: Business & Computing News