Lancashire Cup Success!
7 June 2018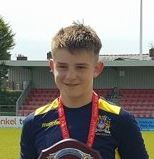 Congratulations to our student Aron Shatwell who plays for the 'Year 8 South Ribble District Football Team', on winning the 'Lancashire Cup'!
At the FA County ground on the 20th May, Aron and the rest of his team beat all Preston schools and West Lancashire Schools and came away with the Cup!
Fabulous news Aron, Balshaw's is very proud of you!
Thanks to Mrs Shatwell for giving us permission share this success!