A Marvellous May for Maddison
A Marvellous May for Maddison
6 June 2018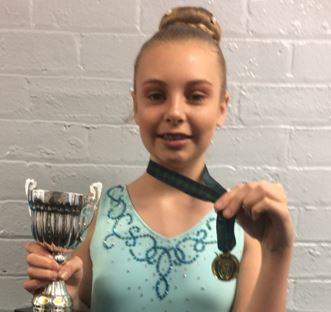 In a recent trip to Edinburgh, Maddison won a gold medal for her pattern dances of waltz, tango and also achieved fourth in her free dance. Maddison is skating at level 3 having been successful with excellent TES scores (total element scores) allowing her to progress.
Here is Maddison with her wonderful gold medal and shiny trophy:
Following on from that Maddison went to Deeside and achieved second place in both dances and subsequently was awarded two silver medals. She did so well and is on track to be in the British competition in 2019.
Here is Maddison with her silver medal:
Thank you to Maddison's Mum for the updates and photographs.

You are can read previous articles about Maddison here: https://www.balshaws.lancs.sch.uk/news/latest/2018-04-25-maddison-s-skating-success