Talent and Tricks
8 January 2015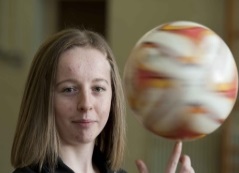 Olivia Cooke is a very talented young footballer. She started playing for Preston North at the age of 10 and then moved on to Blackburn Rovers Academy.
"I played football since I was 10 for PNE, then went on to Blackburn Rovers Academy, which is one of the best teams in the country for girls," she said. "Football allowed me to travel a lot and I went to America to play people from countries like Finland, Australia, Denmark and Canada.
Olivia has recently discovered recently that she is particularly good at tricks with the football too.
"I started to enjoy doing simple tricks and flick-ups.
Olivia's talents have even been showcased on TV channel Nickelodeon!
Family have always been a great support to Olivia. Especially her older brothers, Jack who is 21 and Sam, who is 19.Olivia's footballing days began at the young age of 3!Her family couldn't be prouder of her skills, dedication and achievements.
Miss Gladki teaches Olivia at Balshaw's said: "Olivia has been interested in sport and PE from the day she started at Balshaw's, and her ability, passion and commitment to sport have led her to captaining the football team for the last five years.
"Not only does she play football, she also coaches and referees younger pupils.
"She is currently studying GCSE PE and will achieve a very good grade if she continues working at the level she is now.
"Olivia is a pleasure to teach and a credit to Balshaw's."
The Leyland Guardian published a full report on Olivia on 30 December 2014 and you can see full details about her achievements and a video showcasing her skills on their webpage.
Talent and Tricks
Tags: Sports News